(The Philippine Star) | Updated January 31, 2015 - 12:00am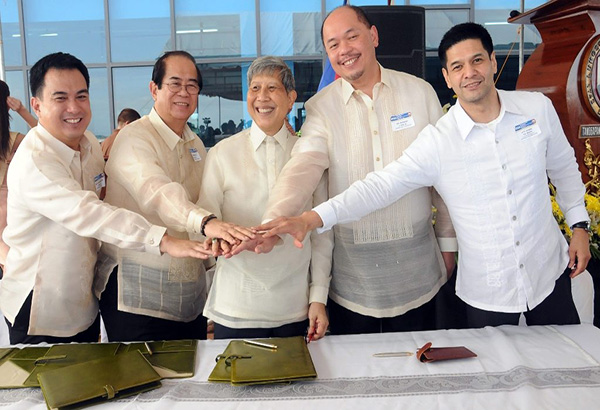 All for One, One for All: Calamba Mayor Justin Marc Chipeco (left) and Rep. Jun Joaquin Chipeco (2nd from left) join top executives of Greenfield Development Corp. led by Jeffrey Campos (center) in a show of support during the inauguration of the Calamba Regional Government Center. Others in photo are (from left)

John Michael Tan and Duane Santos.
MANILA, Philippines - Equus City, a 25-hectare commercial hub in Calamba, Laguna being developed by Greenfield Development Corp., got off to a good start this year with the recent inauguration of a "one-stop shop" government center located in the area. Interior and Local Government Secretary Mar Roxas led the inauguration of the new building and personally witnessed the signing of a joint venture agreement between Greenfield and the Calamba City government represented by Mayor Justin Marc Chipeco together with his father, Rep. Joaquin "Jun" Chipeco.
Called the Calabarzon Regional Government Center (CRGC), the new building was built through a public-private partnership (PPP) program with the Calamba City government, AlloyMtd Philippines and Greenfield. It is envisioned to solve the issue of government agencies in Region IV-A being scattered in different locations thus making public service inconvenient, difficult and costly for those transacting business with the government. Upon completion, the CRGC will also enable different regional government branches in Calabarzon (Cavite, Laguna, Batangas, Rizal and Quezon) to be located in just one, easily accessible place.
Located at Barangay Mapagong, Calamba City in Laguna, the P2.5-billion facility is a first-of-its-kind development in the entire country, and was practically made possible with the help of Greenfield which donated a prime lot located near the South Luzon Expressway (SLEx) in Calamba City, Laguna.
Jeffrey D.Y. Campos, president and chairman of Greenfield, said his company is proud to have been a part of the development. "This development is the fulfillment of a life-long dream of our founder, Jose Y. Campos, who has always been supportive of government endeavors in Laguna in the past. His vision has always been to make life easier for people, especially those living in the southern part of Manila. The CRGC will enable government offices to service more Filipinos coming from Calabarzon (Region IV-A) area more efficiently, so we're happy to be a part of this development."
For his part, Roxas lauded the opening of the regional government hub saying: "Government agencies have been renting office buildings since time immemorial, and we want to change that (practice) with this new hub.

I'd like to thank Greenfield for their land donation. The new facility will serve as a symbol of the Philippines' future – having a modern government facility is one of the best measures of success of a country."
Inspired by Malaysia's federal administrative center, Putrajaya, the six-story government center aims to house more than 20 regional government offices in one location. Although still lacking some fixtures and power and communication lines, at least two government agencies — the DILG and the National Economic and Development Authority (NEDA) — have already signed lease contracts to hold office in the facility. Space in the facility is being leased for P450 per square meter per month.
Aside from the DILG, other government offices are also expected to move in soon. These include those of the Department of Tourism, Bureau of Fisheries and Aquatic Resources, Pag-Ibig Fund and Land Bank of the Philippines.
________________________________________________________________