By Lawrence Agcaoili (The Philippine Star) | Updated April 16, 2016 - 12:00am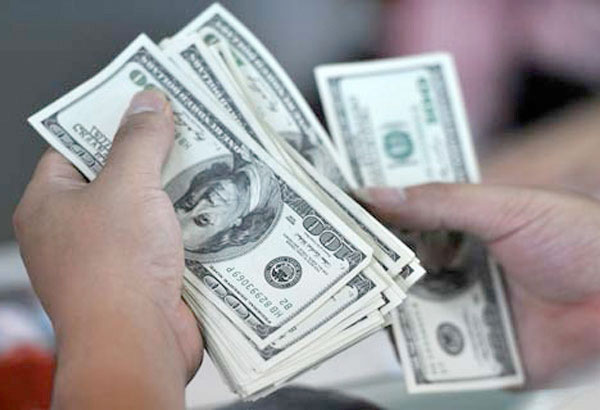 BSP officer-in-charge Diwa Guinigundo said cash remittances from overseas Filipinos reached $2.11 billion in February, 9.1 percent or $175 million higher compared with the $1.93 billion recorded in February last year. File photo
MANILA, Philippines - Remittances from overseas Filipino Workers (OFWs) expanded 9.1 percent in February despite the prolonged slump in global oil prices, the Bangko Sentral ng Pilipinas (BSP) reported yesterday.
BSP officer-in-charge Diwa Guinigundo said cash remittances from overseas Filipinos reached $2.11 billion in February, 9.1 percent or $175 million higher compared with the $1.93 billion recorded in February last year.
The 9.1 percent growth in February was the fastest since June last year when cash remittances booked a double-digit growth of 10.9 percent.
Guinigundo said remittances rose 6.2 percent to $4.13 billion in the first two months of the year from $3.89 billion in the same period last year.
The growth in the first two months was faster than the four percent full year growth set by the central bank.
Guinigundo, who is also deputy governor of the BSP, said remittances from land-based Filipino workers went up 6.9 percent to $3.2 billion, while remittances from sea-based workers increased 3.7 percent to $917 million in the first two months of the year.
Business ( Article MRec ), pagematch: 1, sectionmatch: 1
More than 75 percent of the cash remittances came from the US, Saudi Arabia, the United Arab Emirates, Singapore, United Kingdom, Hong Kong, Canada, Japan, and Qatar.
"The steady deployment of overseas Filipino workers remained a key driver to the growth of remittance inflows," Guinigundo said.
BSP Deputy Governor Nestor Espenilla Jr. earlier said the $81 million bank heist involving the money stolen by hackers from Bangladesh Bank that found its way to the country via Rizal Commercial Banking Corp. (RCBC) has not affected remittances.
However, he noted foreign correspondent banks of local banks have ended their partnerships involving remittances as part of their de-risking efforts.
BPI president Cezar Consing earlier confirmed the money laundering scandal could result in higher cost for cash remittances.
Data from the Philippine Overseas Employment Administration (POEA) showed 31.6 percent of the 160,277 total approved orders in January and February were processed during the period.
Processed job orders were intended mainly to fill demand for service, production, and professional, technical and related workers in Saudi Arabia, Kuwait, Qatar, Taiwan, and the UAE.
Personal remittances also grew nine percent to $2.33 billion in February from $2.14 billion in the same month last year.
Personal remittance is computed as the sum of gross earnings of overseas Filipino workers with work contracts of less than one year, including all sea-based workers, less taxes, social contributions, and transportation and travel expenditures in their host countries.
For the first two months, personal remittances went up 6.1 percent to $4.57 billion from $4.31billion in the same period last year.
According to Guinigundo, personal remittance flows consisted primarily of transfers from land-based workers with contracts of one year or more amounting to $3.5 billion as well as compensation of sea-based workers and land-based workers with short-term contracts reaching $1 billion.
Cash remittances rose 4.6 percent to $25.77 billion last year from $24.63 billion in 2014 amid the strong demand for skilled Filipino workers abroad.
For this year, remittances are expected to increase by four percent on account of the steady deployment of Filipino workers, greater diversification of country destinations, and shift to higher-skilled types of work.
Moody's Investors Service said weaker remittances from the Middle East due to the continued softening in oil prices would reduce the benefits of oil imports for several Asian economies including the Philippines.
In a report, Moody's said the more pronounced and prolonged oil price decline coupled with fiscal tightening in many oil exporting countries could hurt migrant worker earnings and remittances.
Moody's said diversified locations and vocations of overseas workers from the Philippines, India, and Vietnam would help reduce the fall in remittances.
Moody's said the Philippines draw its remittances almost equally from the Gulf Cooperation Council (GCC) economies with 34 percent and the US with 31.7 percent.
"The proportion of remittance inflows from the US and GCC are nearly equal, at 34 percent, and 31.7 percent, respectively," Moody's added.
____________________________________________________________________