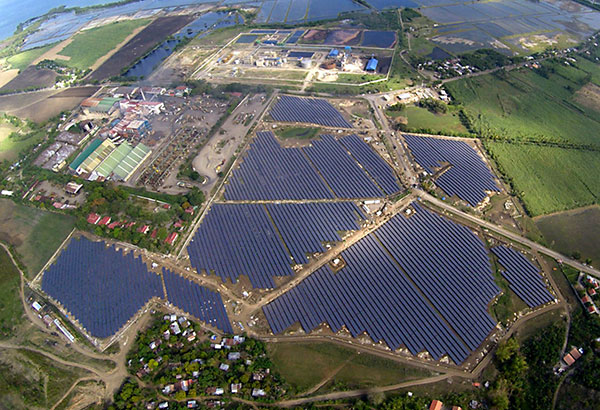 Aerial view of the 18-MW Montesol solar farm in Basic City, Negros Oriental.
MANILA, Philippines – Renewable energy developer Bronzeoak Philippines Inc. has completed four solar-powered projects with a total capacity of 98 megawatts with its partners.
In a statement, Bronzeoak said all four plants are registered under the Wholesale Electricity Spot Market and are tested and approved for full power export by the National Grid Corp. of the Philippines (NGCP).
"As required by Department of Energy and NGCP, all four plants can be independently verified by the grid system operator as operating and exporting power from each and every one of its power generating inverters, all well before the March 15 deadline to avail of the feed-in tariff (FIT) mechanism," the company said.
The FIT scheme is a set of incentives given to power developers for constructing the more expensive renewable energy (RE) plants.
For solar technology, developers were given until March 15, 2016 to complete and produce power from their projects to be eligible to receive the new P8.69 per kilowatt-hour (kwh) FIT rate in the second round of FIT for the RE resource.
The first solar project completed among the Bronzeoak's list is the 18-MW joint solar farm with AC Energy Holdings Inc., the power unit of the Ayala Corp.
The facility, under the joint venture firm Monte Solar Energy Inc. (Montesol), is located in Bais City, Negros Oriental, near the Cebu-Negros undersea cable to supply the rapidly growing daytime power requirements of Dumaguete and Cebu.
In a disclosure to the Philippine Stock Exchange, Ayala Corp. said the solar farm was completed and energized last month.
"Montesol met all the requirements set forth by the DOE and the NGCP and has since been dispatching the full 18 MW to the grid," it said.
The conglomerate also disclosed the 18-MW facility is the "first phase of the targeted total of 50 MW solar power farms to be completed by the joint venture."
The next three plants, with a total capacity of 80 MW and all located in Negros Occidental, are owned by Negros Island Solar Power Inc. (IslaSol), a joint venture between Bronzeoak, the Macquarie managed Philippine Investment Alliance for Infrastructure (PINAI) Fund, and Dutch pension fund manager APG.
Bronzeoak said these plants, which include an 18-MW and an 14-MW plant located in La Carlota City and a 48-MW located in the municipality of Manapla, "have also met all the DOE and NGCP requirements and are currently providing daytime power to the seven million people living in Negros Occidental and Panay's four provinces."
This new batch of solar plants is the second partnership between Bronzeoak and the PINAI Fund. The first was the 45-MW Sacasol plant in San Carlos City which started operations in 2014.
PINAI's investors include the Government Service Insurance System, Asian Development Bank, APG Asset Management, and Macquarie.
______________________________________________________________